Woodsong Arabians
~for the long run
Woodsong is breeding quality pure and part arabians in the lovely Tamar Valley, Tasmania.
We are using mainly Polish,Crabbet and Gainey bloodlines.
We test our horses in endurance which requires soundness and good temperament, bringing out their best.
Situated on the hilltop in the beautiful, quiet rural area of Bangor we welcome visitors to see our special horses.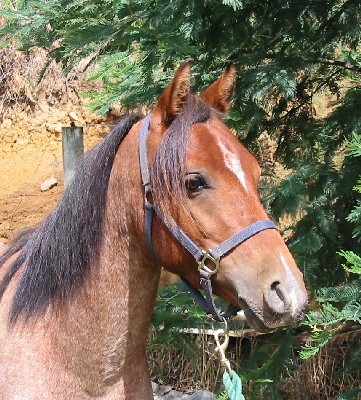 Arabian Pony gelding by Khozmonaut out of Shanameer Primrose
3yo bay roan FOR SALE
Contact Diana Carroll or Paul Sward
Phone (03) 6395 4212
or write to
110 The Paling Track
Bangor Tas 7267
email:woodsong@bigpond.com
Stallions at Stud Our Lovely Arabian Mares Stock For Sale Artwork Foals


Handy Links
Australian Endurance Riders Association Inc.
Tasmanian Equine Endurance Riders